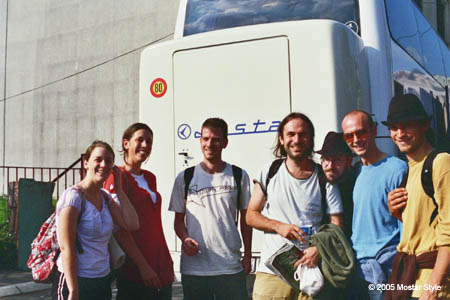 In the scope of the Mostar Style association's project of cultural exchanges with Eastern Europe, the Alma band toured Serbia from the 24th of August and the 6th of September 2005.
After a 24h trip, organised with the support of the travel agency Eurolines, partner of the project, the band met in Belgrade with members of the association and started a series of concerts in various venues of the Serbian capital city: the Kocka (a.k.a. "the Cube"), la Revolucion and the Cinderella, three popular bars with their own atmosphere and audience.
In the Dom Omladine ("house of the youth") of Pancevo (~ 20 km north east of belgrade), the band was welcome by an audience on fire! Same story in the Dom Omladine of Belgrade where the public was more than eager to dance all night long to the reggae salsa dub sound of Alma and of their special guests : the belgradians BG-Stylers.
Next day, on saturday the 3rd of September, Alma gave their last gig in Belgrade in the Plato bar.
The tour ended by a final representation in the FoxTrott of Novi Sad (80km North West of Belgrade, in the Vojvodine area). This particular event allowed the meeting, organised by Mostar-Style, of Alma and the local reggae ska band Lost Propelleros (
www.lostpropelleros.tk
). Basis for a future collaboration inside the Danube Projekt were laid.
With no less than 7 concerts and a lot of encounters, a definitive step was made towards the realisation of the Danube Projekt. We especially want to thank all the people who made these 15 days possible, for the organisation, the cultural and musical aspects, but also on the level of personal accomplishment. The promotion of the concerts (and the buzz word that ensued) was a great success: posters, tv and radio interviews, the media was definitely there. This tour provided an incentive to develop more and more lasting relationships between the people of Eastern and Western Europe.